Description
With a water storage tank of 8 litres and the purifying capacity of 120 litres per day, Aquafresh Dolphin RO is a perfect RO for home use. Its six-stage purification that removes the impurities in the water to the core is the add-on factor in this RO. The Dolphin RO has fully automatic water level sensor with Auto-start / Auto-off, weighs just 9.5 Kg with dimensions L 415 W 265 H 524 m.m, which making it very handy and can be installed anywhere. Aquafresh Dolphin RO does not consume much electricity as it has a power rating of just 30W.
>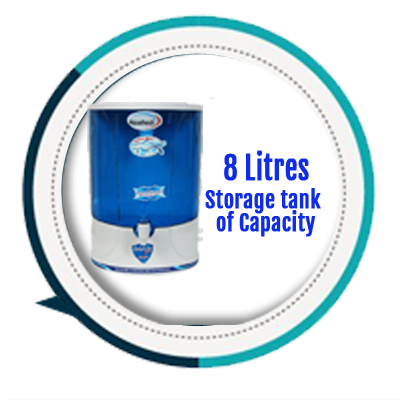 In-built transparent storage tank of capacity: 8 litres.

No of Stages: 6 (1+5).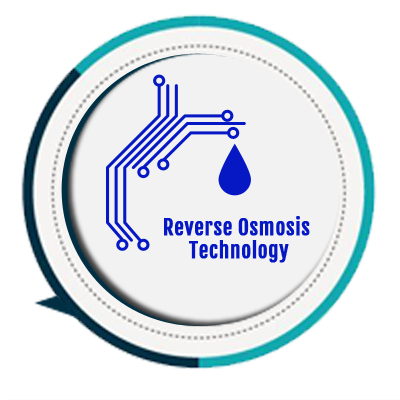 Reverse Osmosis Technology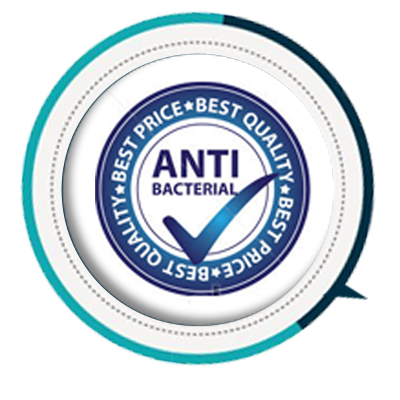 Anti-bacteria 3-in-1 Silver Doser, Taste Conditioner and Activated Carbon as post treatment of RO, to enhance the shelf life & taste of water.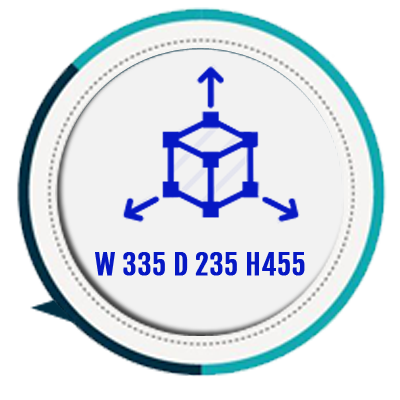 Dimensions: W 335 D 235 H455

Built-in SMPS to operate from 120~280 V AC for electric voltage supply.

Purification Capacity: Up to 12 lph†

Fully automatic water level sensor with Auto-start / Auto-off.

Reverse Osmosis Technology.
Flushing system to flush out impurities & to enhance membrane life.
Wall-mount cum Counter-top water purifier.

SL.No.
Parameter
Specification

1

Purification capacity
10-12* Litres per hour *

2

Max Duty Cycle
120 liters per Day

3

Storage Tank Capacity
8  Litres

4

 6 stages Purification .

Pre-Candle,
Sediment Cartridge,
Activated Carbon,
RO
Post Corbon,
TDS Minimiser,

5

RO Membrane
1812-75 GPD

6

Minimum Inlet  Water Pressure
0.3 kg/sq cm

7

Maximum Inlet water Pressure
2 kg/sq cm ( if input water pressure is more than 2kg/sq cm , install PRV before the Unit)

8

Input Voltage
160-300V  AC ( 50Hz)

9

Operating Voltage
24V DC

10

Input water Temperature
Min 5 Celsius & Max 50 Celsius

11

Total Dissolved Solids (TDS)
Up to 2000 ppm

12

Total Hardness
500  ppm (max)

13

Rejection of TDS
Up to 95%

14

Recovery
Up to 25%

15

Dimensions   (mm)
 L 415  W 265  H 524

16

Net Weight
9.5 kgs.

17

Power rating
30 W
Warranty: Six Month Warranty on Electrical Power Supply and Pump. The service visiting charge of two hundred fifty applies in the six-month warranty period. Installation costs you rupees five hundred.
Warning / Disclaimer
: We do not take responsibility for product performance and warranty support in case of products sold by sources not authorized by us including e-commerce websites and portals like Snapdeal, Flipkart, Amazon, Paytm, Meesho, Shopclues, etc.
Product Details:-
Purification:RO Technology
Stages:6 Stage water purifier
Tank Capacity: 9 Liters (total Volume)
RO Installation:Aquafresh RO Installation
Product Key Specifications :-
RO-Membrane Type: 1812-75 Thin Film
Filters: Sediment, Carbon, Spun candle.
TDS Rejection: 90% (2000 Max.- TDS)
Max. Hardness: 500 mg/ltr